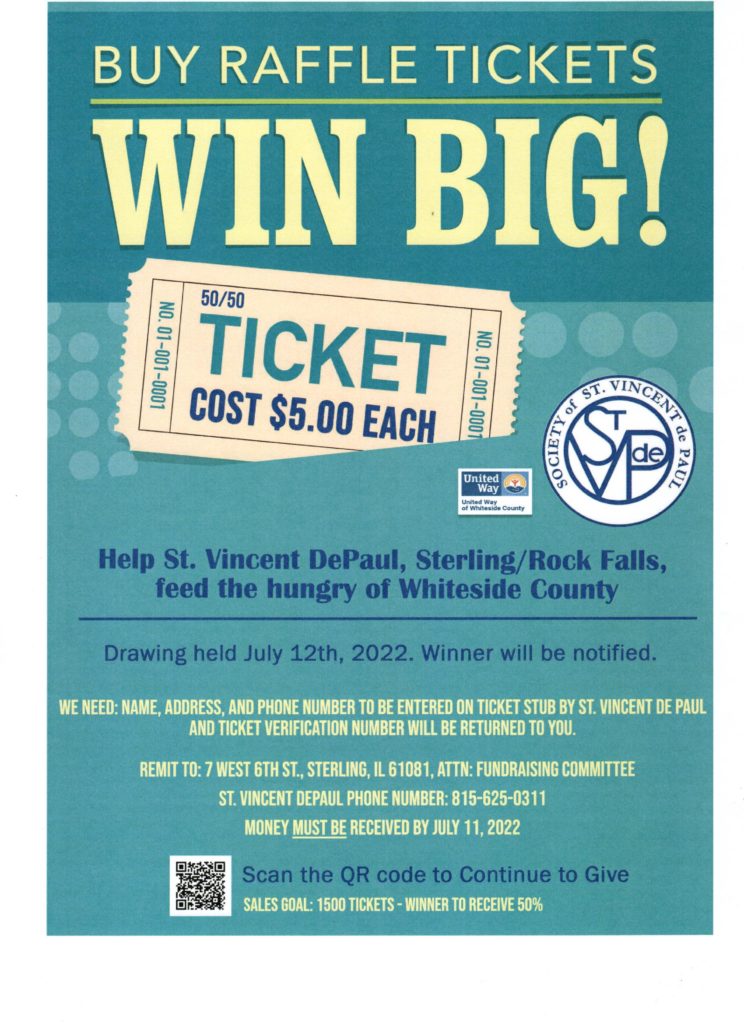 ST. VINCENT DE PAUL HOLDS ITS 2022 NEIGHBORS HELPING NEIGHBORS ANNUAL 50/50 RAFFLE. SPRING IS HERE AND SO IS THE ST. VINCENT DE PAUL 50/50 RAFFLE
Check out all the details displayed on the 50/50 Raffle Poster above. Be one of the first to buy a ticket or tickets in support of this event, which funds the SVdP food pantry and financial aid program that helps needy families in our community. Don't miss out on the possibility of being the BIG WINNER of the 50/50 raffle. Our goal is to sell 1,500 tickets and the winner could receive as much as $3,750.
Tickets are available at the SVdP food pantry Monday through Friday from 12:00 to 2:30 p.m. Tickets will also be on sale at various business locations around the Sterling and Rock Falls area. LOOK for our SVdP 50/50 raffle table outside the businesses listed below and STOP by to support us:
County Market, Sterling — Saturday May 21, June 11, and July 9, 2022
Walmart, Sterling — Saturday May 28 and June 18, 2022
Farmers Market, Sterling — Saturday, June 4 and June 25, 2022
Food Truck Fridays, Riverfront, Rock Falls — Friday, June 10 and July 8, 2022
OR SCAN THE QR CODE DISPLAYED ON THE RAFFLE POSTER AND PURCHASE YOUR TICKETS NOW!